Magical Kitties Save the Day! RPG: Fantastica
Regular price
Sale price
$16.99 USD
Unit price
per
Fantastica at a Glance
Create a fairytale hometown for your new Magical Kitties series, or a fairytale land kitties can visit just once.
In this hometown, magical kitties don't have to hide their powers while they're helping to solve Princess Problems.

The new castle-sitting, royal pains, and magical quest adventure recipes unlock all-new stories for any Magical Kitties series.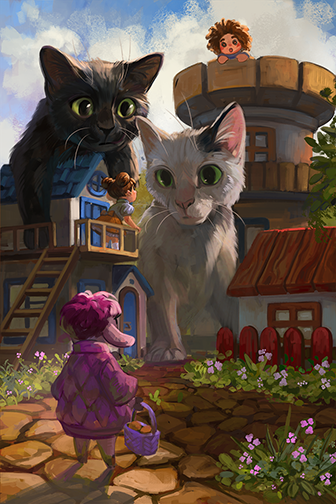 The World of Fantastica
Welcome to Fantastica, a land created as a sanctuary for all that is magical. Here are the mythical creatures, towering castles, enchanted treasures, and feuding royal families of your dreams!
But not all is well in the land of Happily Ever After: Queen Carnelia, the ruler of a land greatly harmed by magic, believes that Fantastica must be destroyed! She has made it her mission to eradicate every last bit of magic that can be found, and her magic hunters prowl the kingdom in secret, disguised as knights, nobility, merchants, adventurers, and even occasionally princesses. If the magical kitties can't stop them, they will corrupt the source of all magic! Their work has already begun, and monsters and curses plague the kingdoms of Fantastica.
Contents
Magical Kitties in Fantastica
Running Fantastica
The Kingdom of Dolls
The Kingdom of Fairies
The Kingdom of Frost
The Kingdom of Mirrors
The Kingdom of Sails
The Kingdom of Salt
The Kingdom of Towers
The Kingdom of Webs
The Kingdom of Whiskers
Beyond the Kingdoms
Fantastica Supporting Cast
Fantastica Problems
Fantastica Foes
Fantastica Disasters
Fantastica Adventures
Share